This was one of the Japanese animated television series my cousins, young sister, and I were always excited to watch at its regular  time slot in the 1990's. My young sister and I would hurry to my cousins' house as fast as we could  to not miss its episodes, for , at that time,we still did not have a telly tube. A black-and-white TV was still the fashionable one. Even my older brother who was not really fond of  it would come along with us. We would all huddle around on the floor  in the living room, nestling one another because the tube was suspended above us.
The anime has marked in my memory since then because it had a major influence in my interest in reading books and aspiring to become a doctor, (the dream I have considered castles in the air.) The anime usually deals with a group of students who live in Plumfield under Mrs. Josephine and Mr. Fritz  Bhaer's tutelage. Both of the teachers are good teachers who  make a big difference to their life by giving importance on education and their future. I will never forget those students: Nan, Dan, Nat, Demi, Daisy, Tommy, Stuffy, Ned, Jack, Franz, and Emil. Of course, I will not forget to include Mr. and Ms. Bhaer's cute, kind children: Rob and Teddy. Each of them has his or her own qualities and dreams. However, it had been a long time , so I could no longer remember the whole stories , especially about their characters. The only ones who has etched in my mind were Nan and Dan.
Nan  is my favorite among the characters. She is a tomboy and the bravest among the students. She taught me how to appreciate the importance of reading books. She even caught my interest in becoming a  doctor because this is what she wants to be. I really liked what she does in one episode: she produces herbal medicine to treat her  friends as her patients. Laugh me as loudly as you can, but I imitated her then. I would also read books on herbal plants and study how to produce medicine out of them. (laughs) Most importantly, she showed me how to be a positive and cheerful person in any circumstances. I liken her to Judy Abbot of Daddy-Long-Legs. Both of them take the world as a playground.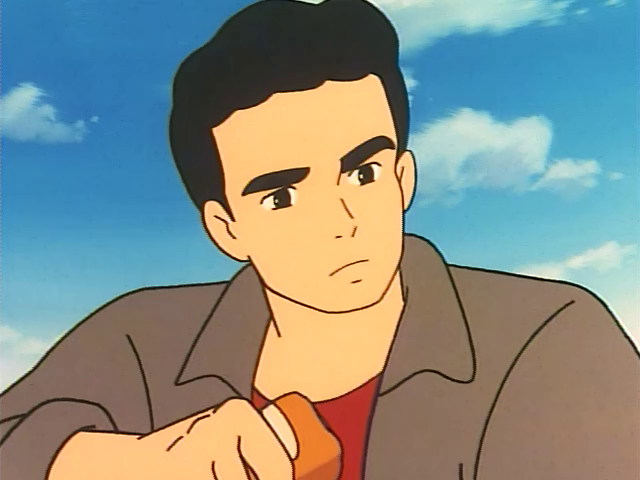 Dan. I can never forget him because  he is a bad boy in the story. But I liked him  because he became close to Nan. Besides, his role is memorable because he changed in the story; he became like a tame lamb. In fact, as far as I remember, my older cousin would giggle when she saw him on TV; she must have found him attractive.
Since then, this anime had always intruded on my peaceful waking hours. Thanks to our modern technology. I  had the good chance to watch it again. There are some full videos  available on You Tube uploaded by people who may also be nostalgic about it.
After finishing its all episodes during the long weekend-thanks to the holiday- there is some information I believed in for a long time has  become crystal-clear. It's not Ann, but Nan. It's  not Dim but Nat who married Daisy. Dan turns out to be a scientist, not a druggist. It's Mr. Page who boosted Dan's interest in nature and animals.
All episodes are worth watching as its novel is worth reading. They are not only entertaining but also rectifying. You can feel like one of Ms. Jo's students because you will learn a whole lot when you usually make a mistake in your life, typical of us when we were still young. Likewise, you can learn how to be a good teacher because of the wisdom Jo and her husband possess.
If Nan sparkled my interest in books and medicine then, now, they are Mrs. Josephine and Mr. Fritz Bhaer for being the symbols of virtues,  the paragons of what a good teacher is like. In the anime, they are magnanimous, understanding, thoughtful, considerate. For them, they are not just teachers but also parents to their students. They believe in the philosophy of education that all children have potential to become good persons. I won't forget Ms. Jo's favorite saying, " The sun and the water are the natural way to grow flowers."  , and her belief that students  have to love what they are studying, for when you're truly curious about something, the words you can say can become your teacher. I think they adopted Italian educator Maria Montessori's educational approach.
I have now some favorite scenes and symbolized objects in the story.  For the scenes that had an impact on me, when Nan becomes a teacher to her classmates and Mrs. and Mrs. Bhaer, when Nat succeeds in pulling himself together after his life being a vagrant, when Dan comes back to Plumfield holding the flower same as what Ms. Jo always puts in his vase, when Dan stays at Mr. Page's house and becomes interested in nature and animals, when Dan kisses Ms. Jo and calls her mother, when Dan has the courage to ask Mr. Bhaer's forgiveness, when Nan realizes that she wants to become a doctor, when Dan has to leave Plumfield and says farewell, and when Ms. Jo delivers her farewell speech. Oops… I'm now a spoiler.
As to the  symbolized objects,  First, the flower Ms. Jo puts in Dan's vase. I don't have the foggiest idea of that flower's name. Does anybody here happen to know its name? 🙂 Second, the books Mr. Page lent to Dan to study. Finally, the ring Nan gave to Dan. I even made its pale imitation and gave it to my older cousin.
I'm not a big fan of Louisa May Alcott, but I have read her Little Women or , one of the springboards for my desire to read all the classic  books I haven't read yet. So, after watching this anime again, I have now this seething flush of excitement to read Little Men or  Life at Plumfield with Jo's Boys. In fact, I'm now more excited after learning that it has even a sequel:  Jo's Boys, and How They Turned Out. It must be all about the students above after leaving Plumfield. I wonder what happened to Nan and Dan.
I'm also planning to read The Little Princes and Little Lord Fauntleroy by Frances Hodgson Burnett, The Black Brothers by Liza Tetzner, Heidi by Johanna Spyri, Daddy-Long-Legs by Jean Webster and The Swiss Family Robinson by Johann David Wyss: I have watched their Japanese animated television series.  Gee, you may find me odd, for I'm talking like an effeminate child again. ( blushing)
Are there other 1990's Japanese animations I have missed on my list? Let me know then. 🙂